What's happened?
The Australian Cyber Security Centre (ACSC) knows of a COVID-19 themed scam. It is being spread via text message to the Australian community.
The scam text messages appear to originate from 'GOV'. As the sender and they include a link to find out. When to 'get tested in your geographical area' for COVID-19.
The link included in these text messages is not valid. If clicked on, may install malicious software on your device, designed to steal your financial details.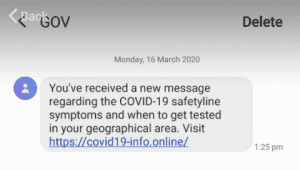 How do I stay safe?
If you receive a text message regarding getting tested for COVID-19. Kindly do not open the link and delete that message immediately.
Messages that claim to be government or any other trusted organizations are known as phishing scams. These scams usually contain a link to a fake website, where you are required to enter confidential information.
To protect yourself from phishing:
Don't open any links which are included in emails, messages or any other digital form of communication.
Refrain from opening attachments/links from people or organizations that you don't trust.
You can also hover over the link to see the actual web address. It will take you to (usually shown at the bottom of the browser window). If you also do not recognize or trust the address, try searching for relevant key terms in a web browser. This way you can also find the article, video or webpage without directly clicking on the suspicious link.
You've also clicked on the link. Your personal details are also compromised. So, contact your financial institution immediately.
If you've also suffered financial loss from cybercrime, report it to ReportCyber at www.cyber.gov.au/report
If you're not sure or need more information regarding the scams. You can reach us at 1300 660 368 and one of our team members. We can also help you in staying safe from the phishing scam.