What's happened?
Previously, we had seen cybercriminals were scamming through text messages by impersonating Australia Post.
This time the scammers are using emails which falsely claim a package hasn't been delivered. Due to its weight exceeding the limit – and it includes a link to click on to 'Pay fee' or seek 'Further information.'
These links lead to a fake Australia Post website requesting personal and financial information.
Here are some examples of what to look out for: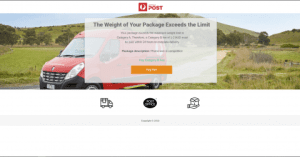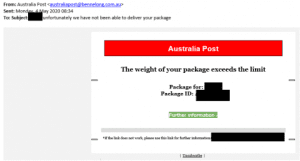 How do I stay safe?
Note that Australia Post will also never email or text message you asking for personal information, financial information or payment.
If you receive one of these messages, delete it and don't respond.
If you are ever unsure of the legitimacy of a message, contact the business it claims to be from separately to check if they are likely to have sent the message. Use contact details you find through a legitimate source, like the business's official website, and not those contained in the suspicious message.
If you've sent personal or financial information to a scam email address or entered it. Into a scam website and you're worried your identity may have been stolen, you can contact ID CARE, Australia's free national identity and cyber support service, on 1300 432 273. ID CARE also has an ID CARE factsheet for customers impacted by Australia Post SMS scams.
We encourage you to share this information with your family, friends and colleagues.
Article courtesy: www.staysmartonline.gov.au