As business trends are emerging, consumer behavior are also evolving. From buying new furniture to fixing a computer, individuals look for a quick solution online rather than lurking in the market physically. Life is busy and everyone needs a swift and cost effective resolution on their fingertips.
This buying behavior trend emphasizes the importance of a website for today's businesses. 93% of Business decisions start with a search online, if you don't have website you are only targeting 7% of the market. A website itself can be used to accomplish many different marketing strategies to help your business grow.
Websites helps in: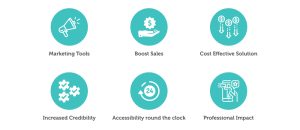 Why regular website maintenance is important?
The importance of a well-structured website can't be ignored. But only having the website up and running is not enough. Proper maintenance of your site is vital to ensure that your site is running at full capacity.
Improved Security
Security is crucial for any business entity. One has to ensure that the website is keeping up with all latest software patches and security updates. Negligence could result into a variety of reasons. For instance: mining Bitcoin, stealing bandwith, drive by downloads, or Blackhat SEO spam campaigns, there's usually one common denominator: an older site. A regular maintenance helps in preventing your site from being hacked.
It boosts site traffic
To provide searchers with the most effective content, search engines raise rankings for websites that are updated often. A higher ranking boosts your site's visibility among your targeted audiences. Updating your site with valuable information, fixing broken links, removing duplicate pages, and keeping your content updated will help drive both new and returning customers.
It optimizes the visitor experience
According to a research, by the year 2020 customer experience will be also overtaking product and price as the critical differentiator for branding. Faster websites, user-friendly web navigation and customized content are also essential for enhanced customer experience. Engage with your audience by including actionable items. For instance: a newsletter signup form and social media icons that link to your organization's profile. A well-maintained website helps promote your brand, work, and mission.
Computer Support Professionals is also passionately producing and maintaining websites that are search engine optimized, work flawlessly on personal devices (including iPad, iPhone, Droid, etc.), are artistically alluring, secure and completely user-friendly. We have affordable web packages to cater all your business needs.