Healthcare Technology Solutions
You didn't become a medical professional to spend time investigating internet and phone providers or trying to troubleshoot computer problems. But for many healthcare providers, this is their reality. Computer Support Professionals also specialize in assisting health professionals like you with every aspect of your IT systems and technology.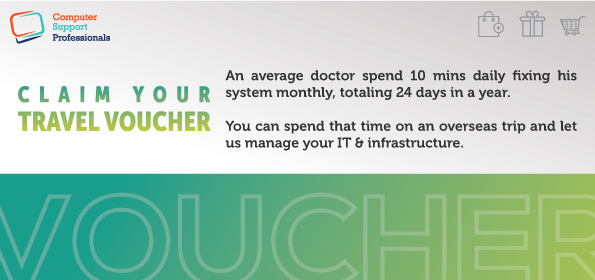 Our services include the ability to act as your in-house technology adviser so not only do we monitor your systems to prevent downtime. We also investigate new technologies and products to see if there is a better and/or cheaper option for your medical center.
SIMPLY EASIER
We consider ourselves part of your team – your technology partner and our job is to take care of all of your IT systems for instance:
24/7 unlimited support whenever you need it
The complete fulfillment of the RACGP information security and privacy guidelines
Protection from cyber threats
Clinical data security and backup
Staff monitoring
Cloud storage solutions
Automatic weekly backups
Reduced print costs
Server maintenance and support
Software and/or hardware updates
Computer maintenance, support and monitoring
Password management
Website management
Internet services
Telephone systems
Wearable technology advice and supply
Management services for existing vendors
Online reputation management
And much more
BENEFITS

WHY CHOOSE US
We are also specialist Medical IT Support Providers with a thorough understanding of the challenges and compliance requirements of healthcare practices.
We operate 24/7 so you will always have the help and support you need.
You can rely on us to provide fast backup solutions with instant server access in case of during disaster. What's more, we can also usually recover your server within 30 minutes and will keep you operating while we work remotely to recover your data. That means patient care is also never compromised.
You receive a dedicated technology advisor to assist you with all of your requirements. In addition, your advisor will help you remain compliant while ensuring your practice operates efficiently and cost-effectively.
There are no nasty surprises with our Fixed Price Services.
We also offer flexible support packages to fit your requirements.
We can operate as your full-time IT department – without the high overheads – to provide all the support you need, when you need it. CSPRO can also even assist your practice with preparation for a compliance audit.
CSPRO have also strong partnerships with all the leading IT service vendors to provide you with the best available options to suit your needs and budgets.
We are industry leaders in cybersecurity during protocols and data protection.
Our Framework
We ensure that your computers and servers fulfill the RACGP computer during security guidelines
Cloud solutions
Server maintenance
Software/hardware updates
Weekly backup
Clinical data security/backup
Server support
Desktops/laptops support
Application support
Right wearable technology
Cyber threats protection
Password management
Staff monitoring
Print costs reduction
Vendor management
Website management
Online reputation management
IT ALL BEGINS  WITH 3 SIMPLE STEPS
For moreover information or to arrange an obligation free IT system audit, call us on 1300 660 368 or email sales@cspro.com.au